Exoten und Garten Forum Hardy Palm and Subtropical Board

---
7,798,608 Messages displayed since 03/03/2007

Maybe I'm confused...my point was NWS Central Park has warmer annual lows than Cape May:

Message from Mike coastal CT

Jeff...maybe I'm confused.

I didn't mean to imply that the current extreme low temp record at Cape May is colder than Central Park...only that it might not be -2 F. I was not trying to compare it to the extreme low at Central Park. Keep in mind they might not seem so close because there is a big difference in how long they have record data at each location. Central Park goes back to 1869.

My only point was that annual Cape May has colder lows the Central Park, NY. If you look at the data. Just look at the last 10, 15 or 25 years and you can see my point. NWS Cape May is always colder annually than NWS Central Park. It's not even close. Here are the two stations side by side -I put a yellow mark to show which one was warmer: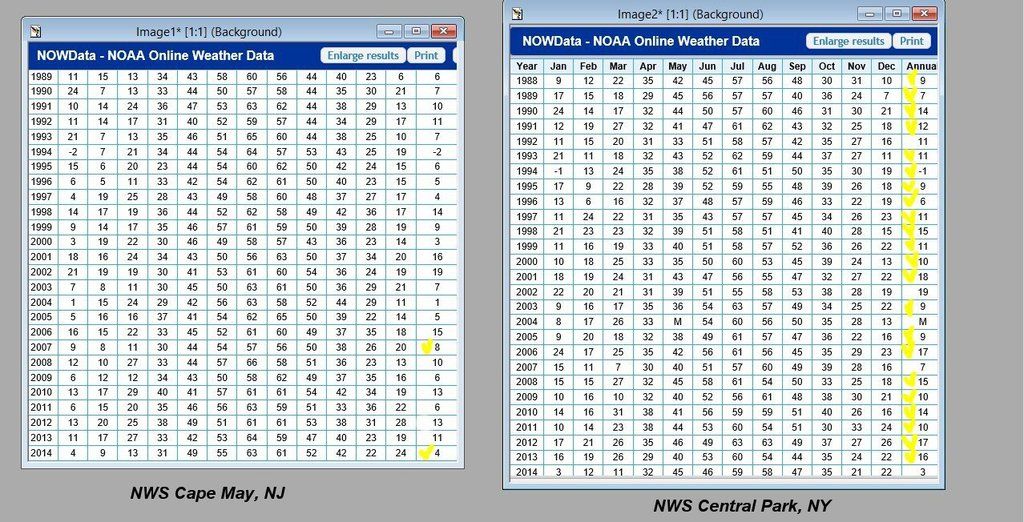 The fault was mine I didn't explain in the right way.

---