Exoten und Garten Forum Hardy Palm and Subtropical Board

---
7,394,969 Messages displayed since 03/03/2007

Agree, cold coming for West/but models overdoing it a bit:

Message from Mike coastal CT

No doubt your right – an early winter cold shot IS coming for a pretty large swath of the West as we move through the weekend into next week. I think 10 to 14 F temp departures are likely (not buying into the 20 F departures the models are showing.

The jet stream will take a big southward dip over the western half of the nation during next week. This air mass will originate in part from Alaska, so no doubt it will be the coldest of the season thus far. It looks like the areas directly in the path will be the eastern areas of the interior West portions of the Rockies and Great Basin(a bit west of the Cascades). An extensive area of highs in the teens, 20s and 30s will develop over the interior West next week. Nighttime temperatures will dip into the teens in Salt Lake City and Boise, and maybe single digits in Denver. Further south…The cold will bleed into central and Southern California, so likely several nights with a heavy frost or freeze over the Sacramento and San Joaquin valleys, as well as the Inland Empire. By Tuesday a pretty good Santa Ana will be roaring through the canyons and gaps in the mountains of Southern California: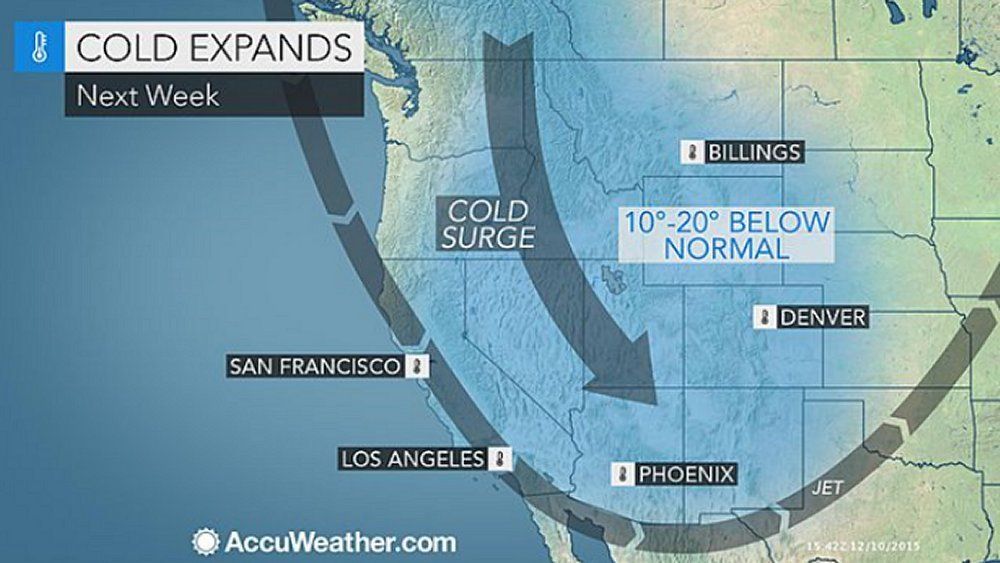 Still….with the pattern so fast I doubt it will last beyond next Thursday – I think the West will see some moderation by next weekend. The last week of the month looks pretty much modest temp departures of +/- of 10 F or so for much of the mainland USA.

---